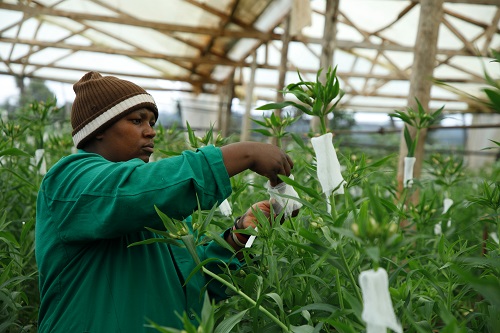 Through the Flowers and Ornamental Sustainability Standard (F.O.S.S) popularly known KFC Silver, KFC enhanced compliance of members farms and continues to promote sustainability in the floriculture industry focusing on:
Our Members,
Our Suppliers,
Our Markets,
Our Environment, and
Our People
Accredited by South African National Accreditation System (SANAS) since August 2008 on ISO guide 17065, F.O.S.S. encompasses social, environment and good agricultural practices aspects to ensure certified producers foster sustainable, responsible and safe production of cut flowers and ornamentals.
FOSS in the International Market
KFC FOSS is one of the only two standards in the world that meet both social and environmental scope of sustainability.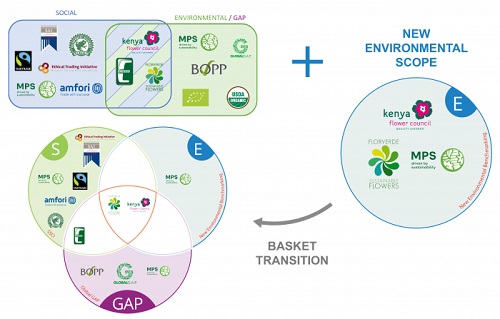 Visit https://fsi2020.com/basket/     for more details.


KENYA FLOWER COUNCIL GOLD CERTIFICATE
The Kenya Flower Council Gold Standard is a voluntary certificate for companies
that are already Silver certified that are willing to go beyond the set limits
to demonstrate higher standards with respect to: -
High Social Standards:
Having a documented Social Management System providing; Corporate Social Responsibility, Engagement with local community and respect for the cultural rights of the employees and local communities, Promoting career development of the employees, Promoting access to education, health care, clean water, and housing,  Ethics and business integrity, a culture of openness and transparency, Established a strong policy against harassment, bullying, and domestic violence, Zero tolerance to the use of illegal drugs and provision of awareness on the harmful effects of the same, Promoting a culture of reduction, re-use and recycle of resources, Provided canteen facilities within the company providing suitable cooking, sitting and storage facilities for food and drinks compliant with Public Health Act Cap 242 regulations including hygiene, health and safety standards.
Agricultural Biodiversity and Environmental Conservation:
Demonstrating compliance to higher environmental conservation goals; where the producer does not use WHO CLASS 1 plant protection products; organic waste is composted and reused, producer is conserving agricultural biodiversity and "ecosystem services" necessary for agriculture, monitoring, measuring and quantifying the GHG emissions associated with production, transportation, and energy production, a wetland is constructed for efficient and cost effective filtration and decontamination system for waste water.
Economic / Business Viability Plan:
Business Plan that is ensuring sustainable management of the company; commitment to being, and existing as a profitable organization, measuring of performance against established goals and objectives with baselines and targets and risk assessment on the systems to detect the arising gaps and taking appropriate remedial actions. 
Highly Trained Managers and Supervisors:
The producer is determining training needs on annual basis for its company employees whose activities have significant environmental; social and economic impacts, the company Internal auditor is ISO 14001 certified, the company pest and disease control and management staff are BASIS certified and management staff in-charge of fertilizer programs at least FACTS certified.